This is a very rough and ready script to install Microsoft SCCM 2012 R2 and SCOM 2012 R2 on a non-domain joined Windows Server 2012 R2 (e.g. DMZ).  The script is provided "As is" so please test it thoroughly on your environment.  You will need to modify the script to suit your environment, you will notice there are no variables configured etc.
On this environment SCOM and SCCM were both configured to use certificates (HTTPS), this script will generate the CSR and uses the same Certificate for SCOM and SCCM.  They both require a Client and Server Authentication Certificate where the Subject Name matches the FQDN of the server.  You need to configure your server name and DNS suffix before running this script.
Firewall Ports required:
SCCM – TCP/443 and TCP/8531
SCOM – TCP/5723
The script requires a few files to work, here is an example folder structure: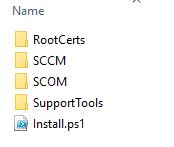 RootCerts – Contains all of your internal root and intermediate CA's
SCCM – Contains SCCM Client Installation
SCOM – Contains SCOM Agent Installation
SupportTools – Folder from SCOM Install Media (MOMCertImport.exe required)
The script works as follows (Again you will need to modify to suit your needs):
Gets FQDN of computer
Gets the current directory (So we know where to get the installation media and certs from)
Imports root certificates into the local machines root store (root) and intermediate certificates into the local machines intermediate store (CA)
Creates Host file entries for SCOM and SCCM servers (assumes no DNS)
Generates a certificate request file in C:\_Temp.  (Change template to suit your environment)
Opens Notepad for user to copy the CSR and generate Certificate via internal CA's
Waits for user to place the new certificate in C:\_Temp\
Installs SCCM Client (With your site settings – this example uses HTTPS)
Installs SCOM Agent (With your management server settings)
Installs SCOM CU, assigns SCOM certificate and restarts SCOM service.
Here is the script, again it's very much a draft and suited my customer.  Please amend and test thoroughly before running it on your production systems.
1

2

3

4

5

6

7

8

9

10

11

12

13

14

15

16

17

18

19

20

21

22

23

24

25

26

27

28

29

30

31

32

33

34

35

36

37

38

39

40

41

42

43

44

45

46

47

48

49

50

51

52

53

54

55

56

57

58

59

60

61

62

63

64

65

66

67

68

69

70

71

72

73

74

75

76

77

78

79

80

81

82

83

84

85

86

87

88

89

90

91

92

93

94

95

96

97

98

99

100

101

102

103

104

105

106

107

108

109

110

111

112

113

114

115

116

117

118

119

120

121

122

123

124

125

126

127

128

129

130

131

132

Author: Chris Hayward, chrishayward.co.uk

Purpose: Script to part automate SCCM client and SCOM agent installs on DMZ and Workgroup machines

Compatible with PowerShell 4.0 only (Windows Server 2012 R2)

Read-Host

"Press any key to continue"

Write-Host

"Script to part automate SCCM client and SCOM agent installs on DMZ and Workgroup machines"

Write-Host

"Please ensure that the machine name and DNS suffix are correct before proceding"

-ForegroundColor

Yellow

Write-Host

"Ensure Firewall ACLs and routing is in place to allow connectivity to SCOM and SCCM servers "

-ForegroundColor

Yellow

# Get machine name and FQDN

$Machine

=

get-content

env

:

Computername

$FQDN

=

[

system

.

net

.

dns

]

::

GetHostEntry

(

$Machine

)

.

HostName

# Get the current directory

$scriptpath

=

$MyInvocation

.

MyCommand

.

Path

$dir

=

Split-Path

$scriptpath

# Import root certificates into correct stores

Import-Certificate

-FilePath

"$dir\RootCerts\MyRootCert.p7b"

-CertStoreLocation

Cert

:

\

LocalMachine

\

Root

Import-Certificate

-FilePath

"$dir\RootCerts\MyIntermediateCert.p7b"

-CertStoreLocation

Cert

:

\

LocalMachine

\

CA

# Create HOSTS file entries

$hosts

=

"C:\windows\System32\drivers\etc\hosts"

add-content

$hosts

"#Specific entries for SCCM and SCOM"

add-content

$hosts

"10.10.10.101 SCOM-Server.yourdomain.local"

add-content

$hosts

"10.10.10.102 SCCM-Server.yourdomain.local"

# Create certificate request"

$ReqFile

=

"certrequest.inf"

$ReqCSR

=

"BinaryRequest.req"

$Cert

=

"NewCertificate.cer"

$ReqFile

=

$ReqDir

+

$ReqFile

$ReqCSR

=

$ReqDir

+

$ReqCSR

New-Item

$ReqDir

-type

directory

-force

Remove-Item

$ReqFile

-Force

add-content

$ReqFile

"[NewRequest]"

add-content

$ReqFile

"Subject=`"CN=$FQDN`""

add-content

$ReqFile

"KeySpec=1"

add-content

$ReqFile

"KeyUsage=0xf0"

add-content

$ReqFile

"KeyLength=2048"

add-content

$ReqFile

"MachineKeySet=TRUE"

add-content

$ReqFile

"[RequestAttributes]"

add-content

$ReqFile

"CertificateTemplate=`"SCOMTemplate`""

certreq

-new

-f

$ReqFile

$ReqCSR

# Prompt user to copy certificate

Write-Host

"Please follow instructions"

Write-Host

"Notepad is about to open, please copy and paste the CSR into the Certificate Enrollment Web Service from a Domain Joined machine"

-ForegroundColor

Magenta

Write-Host

"You need to select SCOMTemplate when requesting the certificate"

-ForegroundColor

Yellow

Write-Host

"You need to download the certificate in BASE64 format"

-ForegroundColor

Yellow

# Prompt user to copy certificate to temp directory

Write-Host

"Please follow instructions"

Write-Host

"Please copy the certificate to the temp directory c:\_temp\ and name it NewCertificate.cer"

-ForegroundColor

Magenta

Write-Warning

"Could not find certificate file"

Write-Warning

"Ensure that you have requested a certificate and saved it in $cert"

# Install SCCM 2012 R2 Client (Latest CU will be pushed by SCCM server)

Write-Host

"Installing SCCM Client"

.

\

SCCM

\

ccmsetup

.

exe

/

UsePKICert

/

NoCRLCheck

SMSSITECODE

=

ABC

SMSMP

=

https

:

/

/

SCCM-Server

.

yourdomain

.

local

Write-Host

"Waiting 3 minutes"

# Install SCOM 2012 R2 Client and latest CU

Write-Host

"Installing SCOM Client"

msiexec

.

exe

/

i

`

"

$dir

\

SCOM

\

MOMAgent

.

msi

`

"

USE_SETTINGS_FROM_AD

=

0

MANAGEMENT_GROUP

=

MG01

MANAGEMENT_SERVER_DNS

=

SCOM-Server

.

yourdomain

.

local

ACTIONS_USE_COMPUTER_ACCOUNT

=

1

USE_MANUALLY_SPECIFIED_SETTINGS

=

1

AcceptEndUserLicenseAgreement

=

1

/

qn

Write-Host

"Waiting 3 minutes"

Write-Host

"Installing SCOM Client CU"

msiexec

.

exe

/

i

`

"

$dir

\

SCOM

\

KB2965445

-amd64

-Agent

.

msp

`

"

/

qn

Write-Host

"Waiting 3 minutes"

Write-Host

"Registering Certificate with SCOM"

.

\

SupportTools

\

AMD64

\

MOMCertImport

.

exe

/

subjectname

$FQDN

Write-Host

"Waiting 30 seconds"

Write-Host

"Restarting SCOM Health Service"

Restart-Service

-Name

HealthService